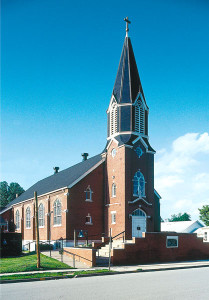 "For many years, the Catholic people of Hardin attended the same church as did the people of Michael. The first mass to be celebrated in the neighborhood was at a house located three miles north of Hardin at the site of the old Paul Godar home. This was in the year 1850, and the priest came from St. Charles, Missouri.

In 1852, the priest from Brussels came to the neighborhood once a month and said Mass at the home of Mr. Degerlia, Mr. Ewens, and Mr. Bokamp. In 1877, Father Freimuth was appointed resident pastor at Michael and he was instrumental in having the frame church built in Hardin. This building was dedicated by Bishop P.J. Baltes of Alton on April 25, 1878. The priests who were stationed at Michael attended to the Hardin Church and they were Father Summers, Father Johannes and Father Connelly.

In 1908 the rectory was built and the first resident priest, Father Kelly, was installed. Other priests who served before 1910 were Father Francis Smith and Father O'Flarethy. In 1910, Father Edward Hickey was appointed. It was due to the efforts of Father Hickey that the new church was built in 1914 and 1915. On November 1, 1915, Reverend Michael Enright succeeded Father Hickey. He remained at the parish until 1922, at which time he was succeeded by Father Daniel Daly. The parochial school was established in 1928."
– From Calhoun is my Kingdom by George W. Carpenter
St. Norbert Church, as we now know it, was built in 1914. Brick construction was quite unusual in Calhoun County at that time. It was considered quite an undertaking to build such a large masonry structure.
Under the direction of Fr. Steve Janoski, the entrance to St. Norbert Church was changed in 1996, adding the handicapped accessible ramp and new steps. Father Janoski left in 1996, but his work on the church's much needed repairs continued under the guidance of Father Sylvano Pera.
Fr. Sylvano over saw the major overhaul of the church's interior which began in 1998. The walls were repainted and the stained glass windows were repaired and covered to prevent damage. The sanctuary was completely renovated, changing where the placement of the altar and adding the mural at the beginning of the sanctuary depicting the Sacraments and the Gifts of the Holy Spirit. In addition, more seating was added to the front of the church.
To view a complete list of all priests who have provided services in St. Norbert, click here.